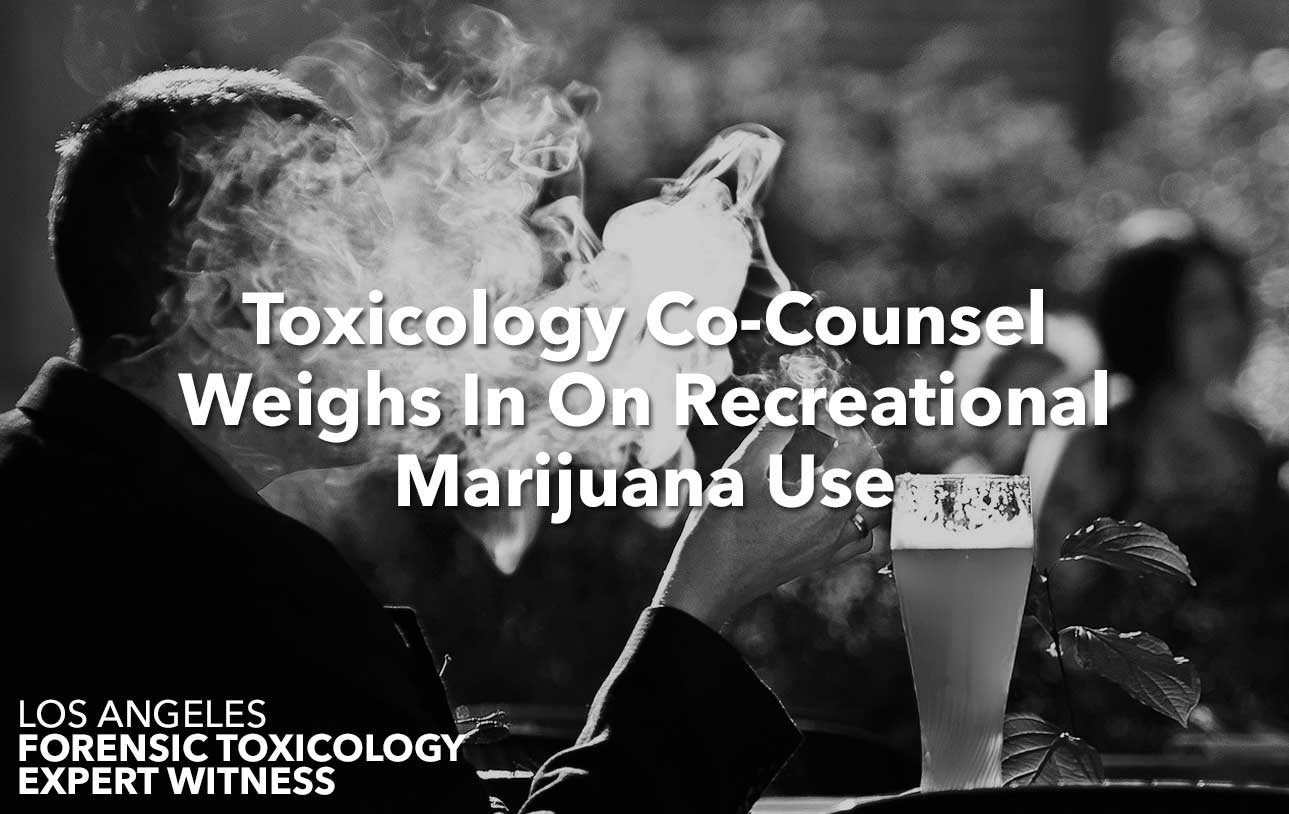 While attorneys are well versed in the proper practices of law, it is often necessary for them to seek co-counsel in specific fields. One field that continues to be searched for by attorneys is toxicology co-counsel. This remains true especially as recreational marijuana laws and use continues to grow and change in California.
As of May 2018, there were a total of 2,132,778 legal medical marijuana patients in the United States with an incredible 915,845 patients located in California alone. Since Proposition 64 passed on January 1, 2018 legalizing the sale of recreational marijuana, there is no doubt that use has increased.
Legal recreational use, however, does not mean the state is now a free-for-all, as there are still restrictions and ramifications consumers may face if they do not obey current recreational laws.
Possession
While anyone 21 or older can now purchase up to an ounce of marijuana, eight grams of concentrated cannabis, and grow up to six plants without a medical card, public consumption of products is still illegal and can lead to a $100 fine. It is also unlawful to use or possess marijuana near schools and daycares.
Cultivation
Again, it is now legal for those 21 or older to plant, cultivate, harvest, dry, or process up to six marijuana plants if they are grown indoors or grown inside an enclosed structure. Similar to employers being able to decide if they will allow employees to work under the influence, it is up to the property owner or landlord to determine if they want to allow the growth of marijuana on site. Growing more than six plants can result in a six-month jail sentence, but can be charged as a felony for those with previous violent felony charges.
Working Under The Influence
Currently, there is no law stopping employers from requiring drug tests for marijuana, prohibiting marijuana use on premises, or firing an employee who proves to be under the influence. Federal employees may also face legal ramifications or termination as recreational marijuana use is still federally illegal.
Possession With Intent To Sell
While owning marijuana plants for recreational consumption is legal in California, selling marijuana without a state and a local license is still illegal. Intent to sell can lead to:
Misdemeanor: Most people will be charged with a misdemeanor, which can result in a $500 fine and up to six months in jail.


Felony: Others may face felony charges if they have been charged with previous violent families, have two or more misdemeanors for possession with intent to sell, or selling to someone under 18. Felony charges may result in two to four months in jail and a fine up to $10,000.
Selling To A Minor
Though possession with intent to sell is usually a misdemeanor, it becomes an automatic felony charge if marijuana is sold or attempted to be sold to anyone under 18. Felony charges also occur for using a minor to sell or transport marijuana. If the minor is between ages 14 and 18, the perpetrator can face three to five years in prison. If the minor is under 14-years-old, the perpetrator will face three to seven years in prison.
Driving With Marijuana
Like driving under the influence of alcohol, it is also illegal to drive under the influence of marijuana. Furthermore, it is unlawful to drive with marijuana in the vehicle unless it is in its original, sealed packaging or the trunk. Driving with marijuana can result in a fine of up to $100.
Recreational use within California is now legal, but there are still laws on when and where it is legal. Considering marijuana is still illegal federally, it should come as no surprise that marijuana use on federal lands, such as state parks, is still illegal. Also, traveling with marijuana across state lines is still illegal, even when traveling to other recreational states.
If you have questions about current recreational marijuana use laws, speak with our experienced toxicology co-counsel today at (800) 285-17653.
---
---